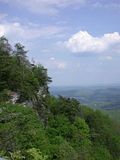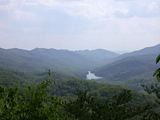 these were taken by my hubby atop a mountain in my home state of virginia, at the cumberland gap, specifically. will be traveling this week for a visit with relatives and to be revitalized by all the old familiar places. it'll be cooler there, a welcome respite from the heat.
here in sc, the air is still and hot as we await yet another afternoon thunderstorm. there is a hum in the air, a quickening that heightens the senses, hovers, and yet refuses to alight. it spears the calm. in the garden the bees advance like gleaners gathering beads of tranquility, spiriting into hidden pockets and disappearing under limp, curling leaves. they beg for the storm to bring its cooling effervescence, life-giving sweetness to the packed bare earth.
i move about between the buildings from early morning to late afternoon, attending to various duties, weaving wishes together to make something artful. if only for myself. as i wait, the summer beckons: don't stay in, come out, come out, the winter will be here before you know it, and you hate cold weather. i stand still, letting the countless archaic souls of this place wind throughout my heart and mind, encompassing all manner of thieving rhythms and timeless nightmares etched in rhymes down the winding paths, white with dust, my brow wrinkled to heaven. the place is timeless. it whispers platitudes in my ear, telling me "all in good time, my dear. all in good time."