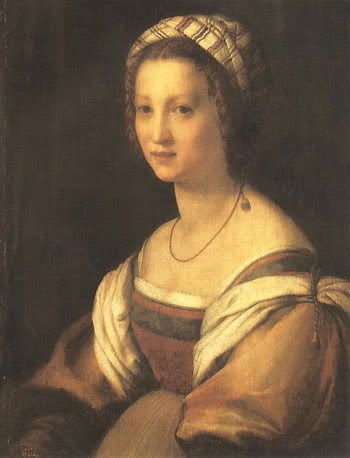 my sister sent the above picture to me with a reminder of how we really don't need to wear makeup.... and neither did she (who happens to be the wife of artist andrea del sarto, c. 1513 or so). don't you love the gentle way her head is crowned?
saw a fascinating movie the other night:
'iron jawed angels,'
about the work of suffragettes and how women finally obtained the right to vote in america (after england and several other european nations had granted it decades before). highly recommended --and great hats!
another fascinating woman, recently the subject of a documentary on the sc public tv network: eleanor roosevelt. i was lucky enough to visit valkyll in hyde park, ny during the time it was being restored in the early 1980s. need to remember her lessons. i had always thought of her as rather dowdy but from all the original reels of news footage & photographs, that just isn't so. very often she was the only gracefully dressed person in the room, a veritable orchid surrounded by drab mens' suits. she also had some wonderful chapeaux.... whatever happened to us, that we don't dress completely anymore?